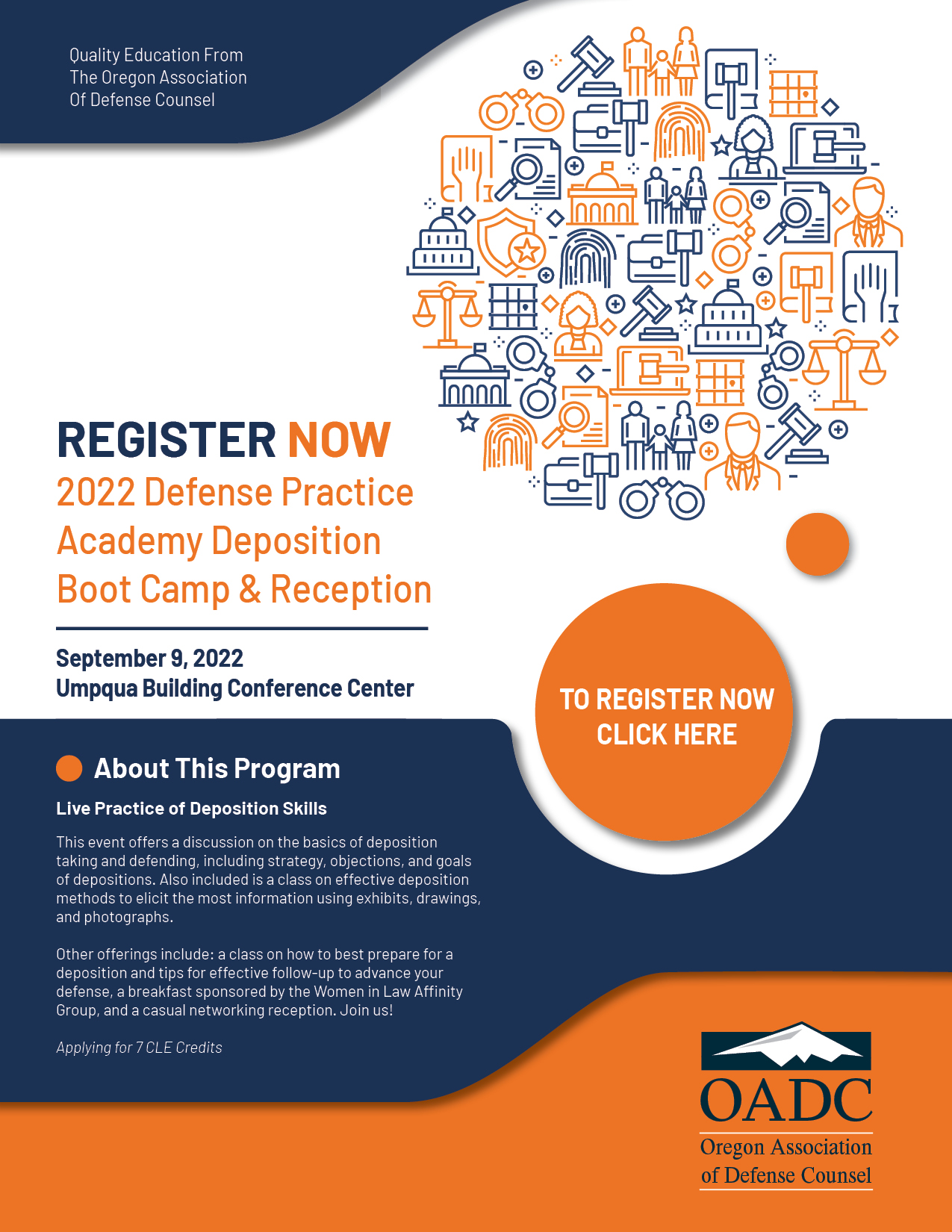 Join us for OADC's CLE event designed for lawyers with five years or less of
experience. Held at the Umpqua Building in downtown Portland, the Practice Academy
provides an opportunity for a day of hands-on learning in a small group setting.
This year's Defense Practice Academy will focus on the art of the deposition.
---
Event Schedule*
8:00 – 8:30 am
Women's Breakfast

Open to all. Join us for breakfast and lively discussion.
8:30 – 8:45 am
Welcome
Our day will start with a welcome, introduction of the sample
case file, and discussion of the plan for the day.
8:45 – 9:30 am
Opening Keynote: Deposition 101
In this general session, we will have discussions regarding
the basics of deposition taking and defending. 
This will include strategy, objections, and goals of depositions.
9:30 – 10:30 am
Presentation 1: Effective Deposition Methods
Learn effective deposition methods to elicit the most information;
how to use exhibits, drawing and photographs.
10:30 – 10:45 am
Break
10:45 am – 12:00 pm
Presentation 2: Before + After the Deposition
Before and After the Deposition - How to best prepare for a deposition,
and tips for effective follow-up to advance your defense.
12:15 – 1:00 pm
Lunch
Lunch with Presentation by Court Reporter.
1:00 – 3:30 pm
Breakout 1: Effective Questioning
Breakout session for attendees to practice effective questioning.
3:30 – 3:45 pm
Break
3:45 – 5:00 pm
Breakout 2: Defending Depositions
Breakout session for attendees to practice defending depositions. 
5:00 – 5:30 pm
Networking Reception
This casual networking reception is the perfect opportunity
to end a long day or learning! Meet and greet with other
OADC members while enjoying refreshments and appetizers.